Converting coin collections into cash is a sometimes necessary event that requires some caution, to get more than the face value of the coins.
Collectible coins have a smelt value, a face value, and a collectible value.
You have several options. I would recommend calling in a coin dealer to estimate the value of your coins. some may be valuable, some common, and some just worth their "Smelt"
[1]
 value.
Several caveats;  Don't clean the coins, Keep them together in some boxes and handle them with white gloves or a sweat sock to keep finger oils off the coins.  Take pictures of them to send to a remote appraiser and to establish that you had them (proof of ownership).  If you are going to keep them, organize them into coin flips and tubes, and make notations on the contents, condition, and dates.  Consider getting a safe, to keep them together and secure.  (coins can weigh a lot, too – keep that in mind).
Selling to a reputable dealer, collector, (or pawn shop) is the fasted route to liquidating your collection for cash. Keep in mind that these buyers are looking for values below market, to reduce their risk and make a profit on the eventual sale; you may be offered between 10 and 70% of the retail value of your coins.
If you have the time and ambition, you can use the internet for valuing your coins, and sell them on your own. Craigslist, EBay, and some of the popular coin sites (forums and for sale sections) are your best options.
There are even books on this topic: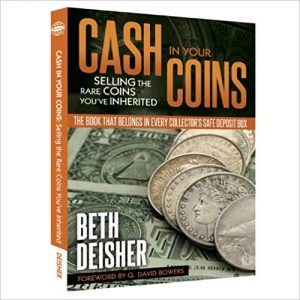 Many public libraries have books on coins and periodicals on prices, that you can access for free.
I buy and sell coins on EBay and from individuals, at estate and yard sales. It's a fun hobby for me, especially when both parties feel they got a good price!
You will need to understand coin grading, as there are many valuations for coins based on condition (grade).  Circulated coins (pocket change) are not worth as much as graded and certified "Mint-State" coins.
If you have the time, and enjoy coins, sort through them and get the valuation of each coin – so you can have a good idea of what the collection is worth.
I use
eBay
for that a lot, especially with older coins.
Best of luck – Please post a response and let me know how you fared!
Thank you for reading my blog! Feel free to share!
Footnotes