On my First trip to Las Vegas, Nevada (aka: the world's playground, or Sin City), I stumbled upon a a Silver Strike slot machine.
Silver Strike Slot machines dispense a $10 casino token, which most winners save as a genuine collectible souvenir of their visit to Las Vegas (or any one of the casino's that have a Silver Strike machine.  There is even a
"Silver Strikers Club"
 with members devoted to the collecting of the strikes.  My first Silver strike was won at the Venetian (Machine since removed).
Every time I returned to Las Vegas, I went on a "Strike Run" to try and win more collectible Silver Strike coins. On this last trip I won 11 coins and a Flattened penny from the container park.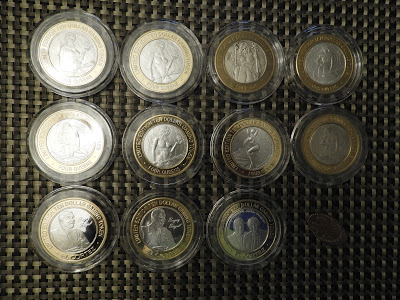 All from the El Cortez and 4 Queens casinos!
Until the late 2000's,Silver Strikes had a solid silver (.999 pure) center, and most recent ones have silver clad centers inside a brass ring.  The rising price of silver plus the cost of minting made the coins worth more than $10, and a losing proposition for the casino.  If the casino discontinued the coins, or was imploded (a popular way to raze a casino in Las Vegas), the silver Strikes become bona fide collectibles.  As of this writing, only the 4 Queens and the El Cortez casinos have silver strike slot machines.  (Tip – The machines get crowded on weekends and nights, try to get there in the off hours, when the casino's are not crowded, like weekdays or mornings).
While you may not consider Casino tokens "pocket change", they are prized for their collectible value, and make a nice addition to your coin collection.  They drop out of the machine encased in a plastic holder (although not the best holder for a coin), and are ready for a cigar box or wall display.  Some of mine are in a display case in my man cave:
Silver Strikes at Grandpa's fabulous man cave hotel and casino (sic).
Even if you went to Vegas specifically to try your hand at winning some silver strikes, Many gift shops and pawn shops have silver strikes for sale.  If you are unlucky at the machines, you can reduce your risk of not winning by buying vintage strikes.  I must confess that at least half of mine were bought on EBay, or from friends who won them in Vegas – and knew I would buy them from them!
When you find yourself in Vegas, Make sure you do things that are fun and don't stay cooped up in a casino the entire time.  The Las Vegas landscape is changing, and becoming more focused on experiences, wine, restaurants, shows, and parks.
Here is a short list of cool things in Las Vegas:
The First Friday Arts Festival,  Held on the First Friday of the month in the Arts District.
The Container Park, on Freemont St.
Park on Freemont Gastropub (try to hangout in the back, it's really nice)
The Mandalay Bay Casino has a glass enclosed 4 story wine cellar
The Excalibur Casino has free Craps lessons at noon (many casinos offer lessons, I had fun brushing up on Craps)!
NYNY casino has, among other things, a statue of Liberty made of Jellybeans.
The Flamingo Casino has a flamingo Habitat. it's very cool.
Both the Bellagio and the Wynn Casino's have amazing floral decorations.
The Venetian has a replica of the grand canal in Venice
There is a street between the Linq and Harrah's that leads to the "High Roller" ferris wheel, and it is lined with bars, shops, and restaurants!
Not to mention the Stratosphere Casino Hotel, with their amazing tower over 1,000 feet above the desert floor.
Did you know there is a Las Vegas Speedway? And you can ride a genuine NASCAR Race car there? (At racetrack speeds, with a real NASCAR driver).
Not to mention the Hoover Dam, Red Rocks, and Helicoptering to the Grand Canyon.
…And there is more!  -When you go, find something unique and share – I will review it on my next trip!
Here are some things you may want to see on your next romp through Las Vegas:
Atomic Liquors on Freemont st., Longest continuously operating bar in Vegas!
Flamingos at the Habitat at (where else?) the Flamingo Hotel, Bugsy Siegel's place.
Pool scene at the Flamingo, great place to cool off.
The lake in front of the Bellagio hotel, where music and water shows happen all evening!
This heart is covered with lover's locks, like the bridge in France.  it's at the entrance to the container Park.
Neon Cowboy on the strip near Freemont st.
 Carousel of flowers at the Wynn
Montgolfier Balloon in Flowers, also at the Wynn
If you liked this post, please repost and share!